OUR STORY
Making great food accessible & affordable.


How did we do it?
Our Company
The Pop Magic
Food powered by data, enabling culinary innovation
We utilize artificial intelligence and data in logistics and cooking automation to enhance your dining experience and to make ordering at Pop Meals easier than ever.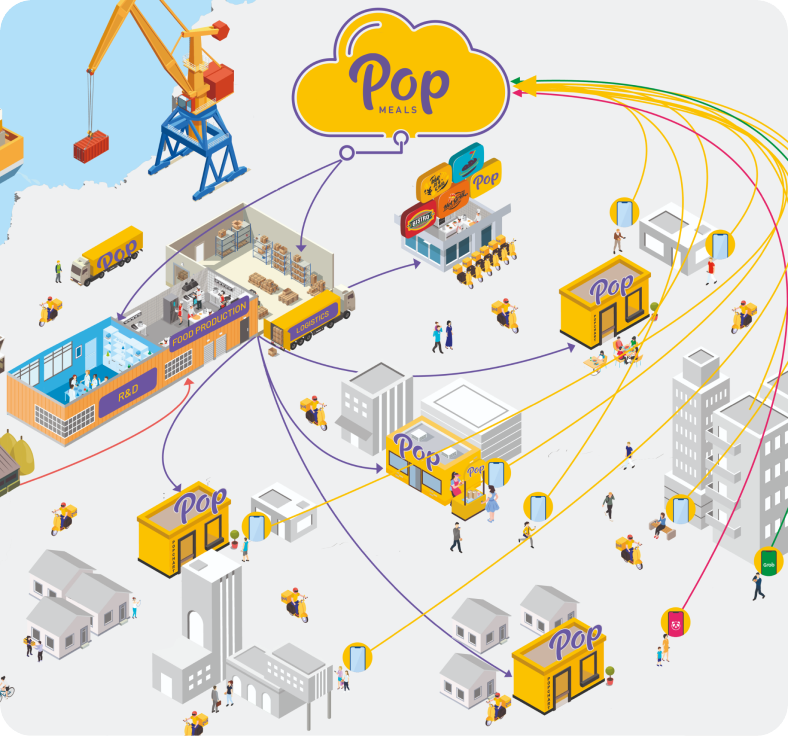 F&B of the 21st century - truly digital experience in the food space.
The future of food is here. With technology and data, we are able to raise the stakes in the industry and make food delivery more exciting, affordable and convenient for our customers.
Y Combinator startup, backed by renowned investors
We are one of the fastest growing companies in the industry and none of this is possible without the confidence of our investors including Rakuten Capital, White Star Capital, JAFCO Asia and GEC-KIP Fund, along with participation from South Korean food delivery app Woowa Brothers, and returning investors Partech Partners and Y Combinator.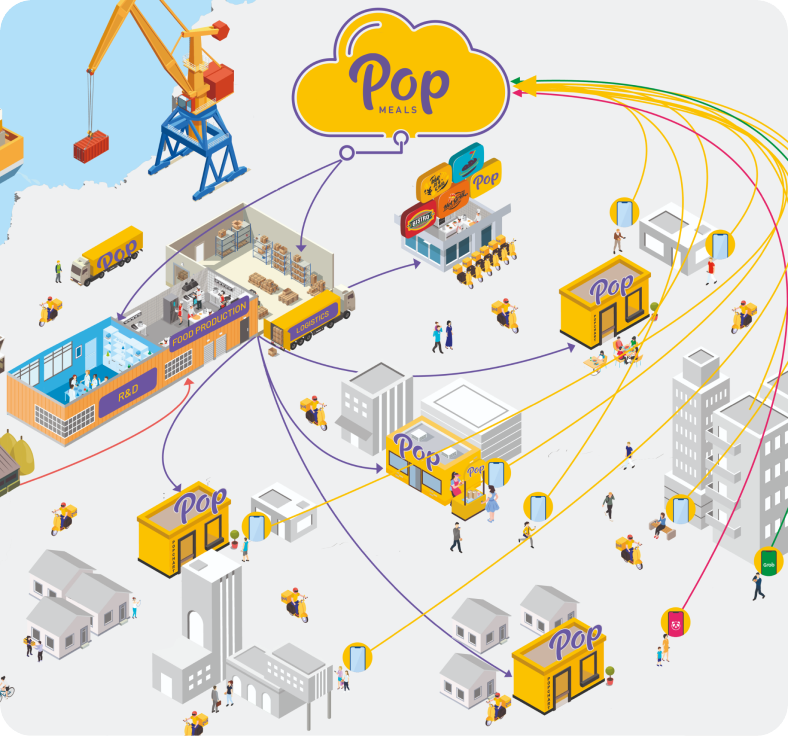 OUR TECHNOLOGY
Crafting and building unique eating experiences

with data and tech
Our 3
competitive advantages

enabling better quality and lower prices
Food powered by AI & data
With artificial intelligence powering our tech, along with thousands of data points, this enables culinary innovation, producing a variety of meals that our customers love.
Automated cooking equipment & digital quality control
We take pride in our state-of-the-art smart kitchens with automated devices, producing meals efficiently with robust quality control and zero wastage.
Constantly improving through customer feedback
Our recipes constantly evolve and get even better overtime and we do this faster than legacy food brands. All of this is possible via various customer touchpoints within our ecosystem such as in-app ordering. Customers are able to leave their ratings and comments that feeds directly into our food engine that's controlled by our R&D team.
Our Brand
The Pop Promise
Popular meals at even more popular prices
There's nothing like a delicious meal at an affordable price, and we plan to keep it that way. It's our promise.
Our meals, ranked everyday! Scroll through the Pop Chart
Our Pop Chart uses multiple customer data points to identify which meals were actually popular or gaining popularity daily so you have complete power to decide whether a meal climbs up or gets the boot.
We are wherever our customers are
We are expanding rapidly so we can be your favourite food place next door.
THOUGHTS FROM OUR CUSTOMERS
Hazwan Ali
Foods all nice and delicious. So far the drivers are friendly with a bright smile. The website and phone apps easy to use. Overall, 5 stars for you guys. Good job, and hope you can maintain this 5 stars service.
Siti Nurhaliza
The menu was so easy to use and easy to handle. A friendly user interface and a very good set of menu with the best of Malaysian food out there. Thank you for the wonderful service
Misha Fahmi
Had a seamless experience placing my order on Pop Meals' website. Looking forward to lunch, every single time I order with you guys. :) Keep up the great work!